This event showed that there was lots of interest in COMPAC's marble collections, which present all the appeal of natural stone but with much higher specifications on their data sheets. Thanks to their advanced technology processing, COMPAC surfaces exceed marble in features such as impact resistance, lightness, ease of cleaning and versatility.
The fact that COMPAC is unaffected by extreme weather conditions and even ultraviolet radiation makes it recommendable by experts for both indoor and outdoor use.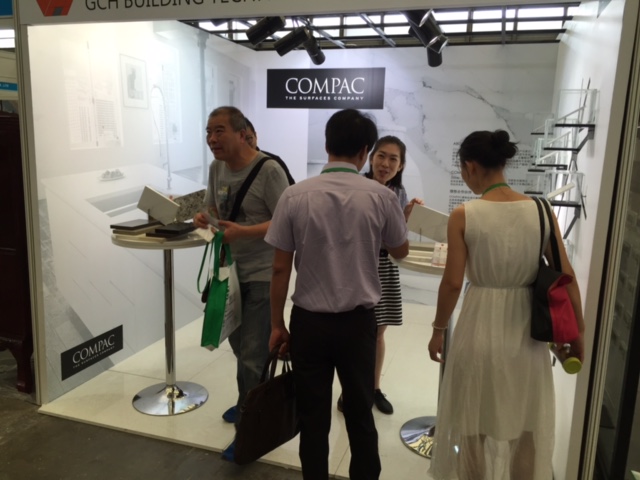 Micro Thassos, Afión, Blanco Micro, Nacarado, Fidji, White Faraya and Bering are some of the most frequently used colours in a wide range of designs available with finishes that are matte, polished, bush-hammered, silken and ovo. Chromatic variety, multiple finishes and formats have all made COMPAC the perfect partner for projects all over the world.
The Hungary Eiffel Palace in Budapest; the Hamad Heart Hospital in Qatar; the City Council of Zaragoza in Spain; Le Royal Meridiem in Dubai and the Zorlu Center in Istanbul, with an 80,000m² façade in polished marble from COMPAC, are all icons of avant-garde architecture – and just some of the works that use this Spanish brand.
Its outstanding performance in high transit public spaces, such as airports, railway stations or shopping centres, also ensure exceptionally good resistance at home. Besides being used in flooring and wall coverings or bathroom vanity tops, COMPAC marble is very easy to install on stairways, mantlepieces or column caps, among other applications.