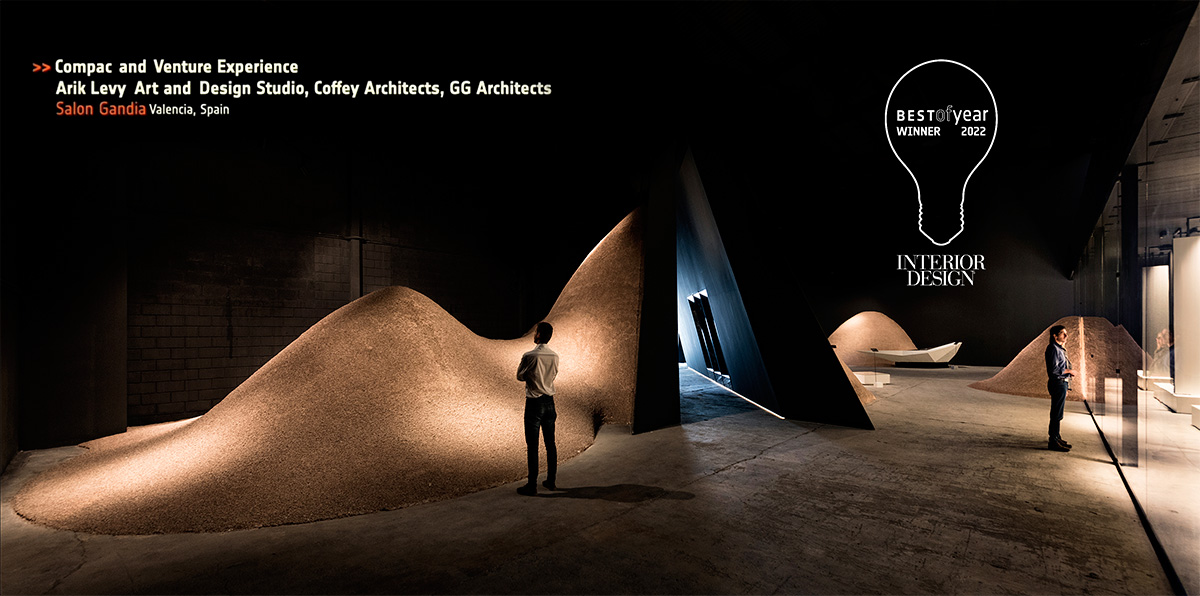 The innovative concept and development of SALON COMPAC The Matter Mastering Immersion has been recognized by the international architecture and design industry. Thus, the Best of Year Awards 2022, announced last December 8th during the awards gala in New York, honored SALON COMPAC in the Product Showroom category.
The Best of Year Awards have become the ultimate exponent of excellence, showcasing the most outstanding projects in all design categories and, at the same time, setting the bar even higher for the future.
This year was the 17th edition of these important awards organized by Interior Design, one of the most influential media in the Americas. COMPAC has shared the stage with prestigious international firms such as Gensler, BIG-Bjarke Ingels Group, Kelly Wearstler, etc.
In addition to this great award, SALON COMPAC also received a special mention from the Architizer Awards, recognizing the company as a leader in the architecture and design industry worldwide..
This experiential space is a reflection of the company's principles in terms of sustainability and innovation and its aim is to invite visitors to explore through their imagination all the possibilities offered by the decorative surfaces. Throughout the tour, are displayed very different applications of Terrazzo COMPAC, Obsidiana COMPAC and Quartz COMPAC.
Under the motto The Matter Mastering Immersion, this avant-garde 1,200 m² space was created with the aim of helping architects, designers and interior designers to enrich their projects and creations, showing them that matter can be a way to give wings to creativity. This is evident in this revolutionary showroom, where COMPAC show its surfaces' versatility in both works of art and functional architectural elements.
SALON COMPAC brings together different sculptures and designs that show the expressive potential and versatility of COMPAC materials and their ability to inspire creators from all over the world. In the words of Paco Sanchis, CEO COMPAC,: "The sculpture "Ghost" by Arik Levy, "Head" by Rubén Fuentes Fuertes, the spectacular piece "Hammam" -developed together with GG Architects-, or "Stepwell", made with the London studio Coffey Architects, which simulates the geometric wonder of Chand Baori add value to our showroom because they are in line with our philosophy 'Minds Over Matter', we are convinced that when the mind dominates matter, unique pieces and inspiring experiences emerge. They play with geometries, lighting and angles achieving pieces that have been recognized internationally".
Photo Gallery